Skilled Nursing Facilities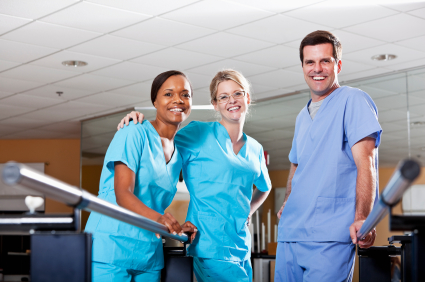 Avery Rehabilitation provides and manages physical, occupational and speech therapy services through our skilled nursing rehabilitation services division. Our programs are designed to provide rehabilitative care to both the short-stay patient and the long-term care resident. We service a wide range of conditions that are common to the geriatric patient. Our record keeping and client billing are state of the art. With our computerized documentation and billing programs, our therapists capture precise treatment data, meaning lower risk for you through accurate and timely invoicing. Avery delivers progressive clinical programs that effectively manage census and case mix. Avery is able provide seasoned therapists dedicated to your therapy program. Our experienced therapists develop individualized therapy programs based on the needs of your residents.
Staffing
In conjunction with Avery Partner Healthcare, Avery Rehabilitation coordinates with your facility's administrative staff to provide the highest quality, seasoned therapists in the industry.  Understanding the unique needs of your skilled nursing facility allows our team of recruiters to provide consistent staffing for the provision of rehabilitative services up to seven days per week based on the individual needs of each resident.  Staffing includes:
Physical Therapists
Physical Therapy Assistants
Occupational Therapists
Occupational Therapy Assistants
Speech-Language Pathologists
Team approach to rehabilitative care
Avery Rehabilitation works diligently with your facility's staff to obtain common goals.  Our team of therapists is integrated into your team.  Avery's Director of Rehabilitation and the other therapy staff will be active members of your facility's team and will coordinate closely with other team members to ensure the best possible patient outcomes while maximizing reimbursement.   Our staff attends and participates in all facility required meetings as agreed upon by administration, nursing and Avery Rehabilitation.
Continual Quality Improvement
Avery Rehabilitation understands compliance to be a proactive process, minimizing problematic situations and maximizing results.  Avery is dedicated to continual quality improvement for its programs and customers by objectively and systematically monitoring and evaluating the processes involved in the care of your residents, pursuing opportunities to continually improve patient outcomes and resolving problems in an appropriate and timely manner.
Avery Rehabilitation sets and maintains only the highest standards in clinical documentation. Consisting of therapists, nurses and physicians, Avery's documentation team stays up to date on the latest state and federal regulations to ensure reimbursement for rehabilitative services in your facility in a timely manner.   Documentation training is conducted on a continual basis to maintain integrity of the resident's medical record for compliance and billing purposes.
Avery Rehabilitation provides indemnification of denied claims when such denials are the result of untimely or incomplete documentation or the provision of services are not deemed to be medically necessary under state and federal regulatory guidelines.
Program Development
Without a road map to your desired destination the journey can be difficult if not impossible.  Avery Rehabilitation, in conjunction with your facility's staff, will work diligently to develop and implement a marketing plan specific to your wants and needs.  Avery Rehabilitation provides ongoing in-services for facility staff, as well as physician and community education programs on behalf of your facility.  Our marketing services include but are not limited to:
Brochures outlining unique and special services offered by your facility.
Informational articles
Open houses related to your facility's rehabilitative services
Therapy in-service programs for community, civic groups, hospital and staff.  While providing the highest level of ethical rehabilitation services Avery Rehabilitation strives to provide innovative approaches to increase public awareness of your facility's services